Service as key competence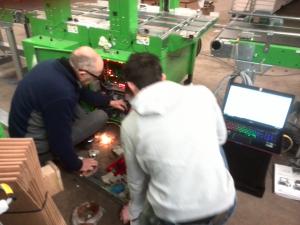 Besides machines and material, Mactech Packaging Systems is specialised in service and maintenance in this area. Years of experience have produced a lot of knowledge on technical possibilities and the needs of our clients, so an honest analysis and the right solution are of great importance to us. With a very experienced team, an innovative way of thinking and connections that have been acquired throughout the years, we will try to advise you as best as possible. A standard machine might suffice perfectly, but there could be other things to consider. Whether you are looking for several fully automated lines, a specific adjustment to you semi-automatic machine or you are in need of regular maintenance on your machine: you have come to the right place. Of course this is also true if you already have a machine from manufacturers like for example OMS, Signode, Schneider Ozga, SMB or Mosca. So for questions, advice or a quotation, please contact us, we are here to help.
Energy Savings, New Solutions, Innovative Durable Projects
Mactech Packaging Systems also concerns itself with energy savings and streamlining current projects. We all know the sight of systems running endlessly, whilst there is little or no production. Where possible, we program our machines to go into stand-by-mode when this situation occurs. The machine restarts when a new package enters the machine. This engineering mind set, combined with the practical requirements of a client, often leads to interesting and innovative developments. For example: at one of our clients, we created a relatively affordable method to secure flowers in their boxes directly on the packing tables. Thus making rubber bands, wooden rails, and wood wool, obsolete, not to mention the time saved.